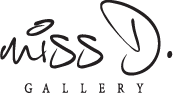 Purchase Original Israeli Art
Miss D. Gallery​
Hello there! We're Miss D. Gallery,
we're located in Tel-Aviv, Israel, and we showcase different Israeli artists. Our various artworks can be viewed on our website, at the Collections webpage, where you can see all of the available artworks.
Did you find your special artwork? That's Great!
Contact us at: info@miss-d-gallery.com with the name of the piece, or send a WhatsApp text message here:
and we'll be glad to provide you with additional details on that artwork, including its price. Every artwork sold arrives with an original, signed certificate of authenticity.
Our clients are located across the globe, and enjoy door-to-door shipping.
The shipment is made through DHL and with our highly experienced courier, whose team creates a custom protective crate for every piece we ship. Each shipment includes insurance.
Once you've contacted us and got all the information you require, and should you decide to purchase your favorite artwork, the acquisition process is very easy – either by credit card transaction by phone call (exep. American Express), or by wire transfer. We will email you an invoice with an empty field we'll kindly ask you to complete with your details for our shipper (home address, zip code, etc.), so that the shipping process can begin immediately after the payment.
Please note we work with DHL Express, so shipping times are mostly 5 to 10 business days, but may take longer. We will be available to you during shipping, until the artwork arrives at your doorstep, and even afterwards if needed.
Want to hear what our customers think about us?
We invite you to visit TripAdvisor, where our customers from all over the world have reviewed us.
You can do this by following this link:
Please feel free to contact us with any questions;
we're available to you by email and phone:
+972-549-766-555
​
Let's find your new artwork together!​